Description:
flow Bubbles screensaver is so beautiful. When run, charming transparent bubbles flowing on the screen. You can define bubbles nums, bubbles size, picture in bubbles.
Also dulcet chime sound playing when the flowBubbles run.
you can position pictures into bubbles.
flowBubbles is also a photo slidesshow screensaver.
This bubbles screensaver is defined as a advanced version of vista bubbles.
This bubbles screensaver has more powerful functions.

flowBubbles is one of the best gifts you find for parents and children.
special version for christmas...click here down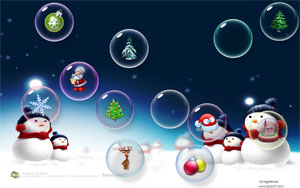 Features:
Transparent 3D bubbles screensaver. You can choose bubbles shape as soap bubbles, heart bubbles, glass frame.

This bubbles screensaver can change background pictures with photo slidesshow. You can use the default image, desktop image or select a picture as background.

User friendly interface.

Possibility to setup the user defined effects.

3D style bubbles screensaver.

Can choose number of bubbles, define how many bubbles will disappear when flow bubbles screensaver run.

Can Change size of bubbles (tiny to huge). Each bubble with different size to other also can set.

Add mask to the picture in bubbles.

Can select if the bubbles have a shadow or not.

The sound effect(Oriental tones). the sound is play when bubbles hit each other. If you don't like, you can turn it off from settings dialog.

Background switch to flow bubbles screensaver.

Many people call it as full version of vista bubbles.
Updates:
Ver3.22 add function which you can control bubbles each with different size.

Ver3.23 add new round mask.

Ver3.25 add clear all button to pictures list and randomized pictures in bubbles.

Ver3.26 fixed the bug of "access..." in win7 when select glass frame style.

Ver3.30 add new parameter of "Images number in bubbles".

Ver3.40 Optimized the way of bubble appearance, increased the screen frame and LONG mode and other optimizations. Screen Backgroud pictures list support folders.
Some Options of settings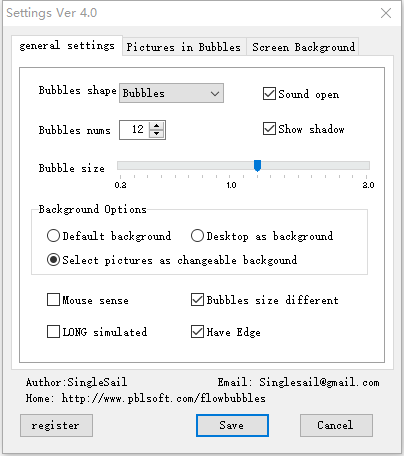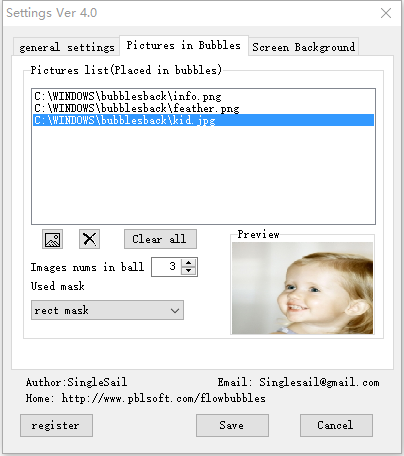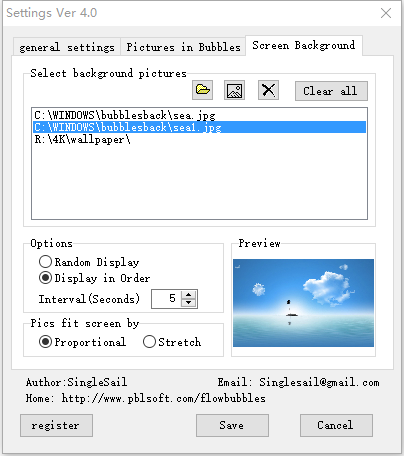 System requirements:
DirectX 7.0 or higher version with DirectDraw enabled.
Microsoft Windows 98/NT/2000/ME/XP/Vista/Win7/Win8/Win10
Safe to install, virus-free
We respect your privacy. So there are no spyware and adware in all of our software.
Some User Reviews:
Bubble screensaver

Carmen918 2010-02-24 18:42:21

This has nice transparent rainbow bubbles that you can insert a picture into or leave blank. You can also use the backgrounds provided or insert your own. It will work will all types of backgrounds. It is very similar to the one that comes with Vista, only better because you have options you can control.

from qarchive.com
Bubbles screensaver

Aadams0184 2009-11-28 17:58:31

i looked forever for this screensaver for my sister, she has windows xp. i found one which didnt work, it was just to complicated. finaly i found the website and downloaded flow bubbles. it downloaded perfectly and ran immediately, i was very happy. it comes with alot more features and opions that the vista program comes with. thank you very much my little sister and i are totally happy.

from qarchive.com
flowBubbles

Webpurchase 2008-05-12 09:26:57

Simple to download and install. Good options for different effects, overall a great screen saver. Looks and acts just like Vista's on XP Pro.

from qarchive.com
Better than Vista

Critters 2008-05-02 05:42:50

I went looking for a screensaver like the new Bubbles one in Vista. I found flowBubbles whilst I was looking and think it is a far superior program, I would recommend it to anyone, very easy to use

from qarchive.com
Excellent Screensaver

sayang 2008-04-16 22:35:55

Unique. So very Beautiful. If you are looking for a screensaver that is unique and beautiful, this is the one!

from qarchive.com
Bouncy bubbles.

Suzanne C. ( Indiana ) 2008-03-06 07:35:40

I just want to say this is great, and I had told my husband about it and he is going to try it also, to see how it does. I like it especially cause I can put family pictures in the bubbles and can see them every day, even put our dogs photo and I can change the bubbles to hearts, glass frame it would be nice to have animal bubbles like dogs, horses, cats, snowman, tukey's, easter eggs and ect. That would be very cool and bet you would get alot of people who would buy it more, but it is still cool. Wish I knew how to make stuff like that it would be cool with the ideals I have but don't know how use the tools to do it but have great ideals on screensavers especially transparent there so neat and let you use any wallpaper and get to see both at the same time. Great job anyways. I will just have to try to get a program so I can get my ideals done and see what happens. I am a country gal and have so many ideals. Have a great day. :)

from qarchive.com
great screensave

Terrilnanax2 2008-01-14 17:02:56

This program is great , easy to install and love the added features

from qarchive.com
flowbubbles preview