Functions:
Use as a management tool to check all the changes to an application before a new release.
Find out what and why the changes you just made broke the application!
export source for objects.
Features:
pblCompare does not modify PBL's in any way. It's a viewer only. Safe for using.
PowerBuilder is NOT required. pblCompare does not use PowerBuilder API to read PBL format. This is mean pblcompare can open all version of PowerBuilder library files and compare difference in souce code within them.
pblCompare supports PBL format of all version of PowerBuilder 6,7,8,9,10,10.5,11,11.5.
compare PowerBuilder scripts with very fast speed.
pblCompare may be used to compare the contents of two PowerBuilder library files or of more. It may be invoked using several methods depending on what you wish to do
Ver2.39 Update:
Fixed bug which icon (+ -) in lib view and obj view not correct to show difference for powerbuilder library files.
Ver2.38 Update:
command line parameters support input ".sr?" source text file.
Ver2.36 Update:
Add two pictures to show difference with powerbuilder object items.
Ver2.35 Update:
Fixed a bug. If a different exits the last line of source, it will cause "List index out of bounds(?)"
Add progress window and "Cancel" button to stop the comparing thread.
Ver2.32 Update:
Fixed a bug. When checked "Ignore Blank Lines", if the difference first line is blank, the comparition for PowerBuilder didn't display the difference.
Ver2.30 Update:
Add "Refresh" function, press refresh button to compare again, don't have to reload files to see difference changed.
Add command line parameters "pblcompare.exe filename1.pbl filename2.pbl", you can compare two library files use command line.
You can also add pblcompare as a compare tool in TFS if you use it as your source code manager in team development. So you can easy to know difference between files in server and files in local.
Ver2.28 Update:
Fixed a bug of "Save result..." Menu function. It can save result of PowerBuilder source code diffrence into a report file.
Ver2.27 Update:
Fixed a bug of "list index out range" in open PowerBuilder Object.
Ver2.26 Update:
Add popup menu to objs view to compare objs in same library file. or compare objects with different name with each other.
ScreenShot
1. Select and Open Powerbuilder library files in left and right, it fast show difference of Powerbuilder libraries.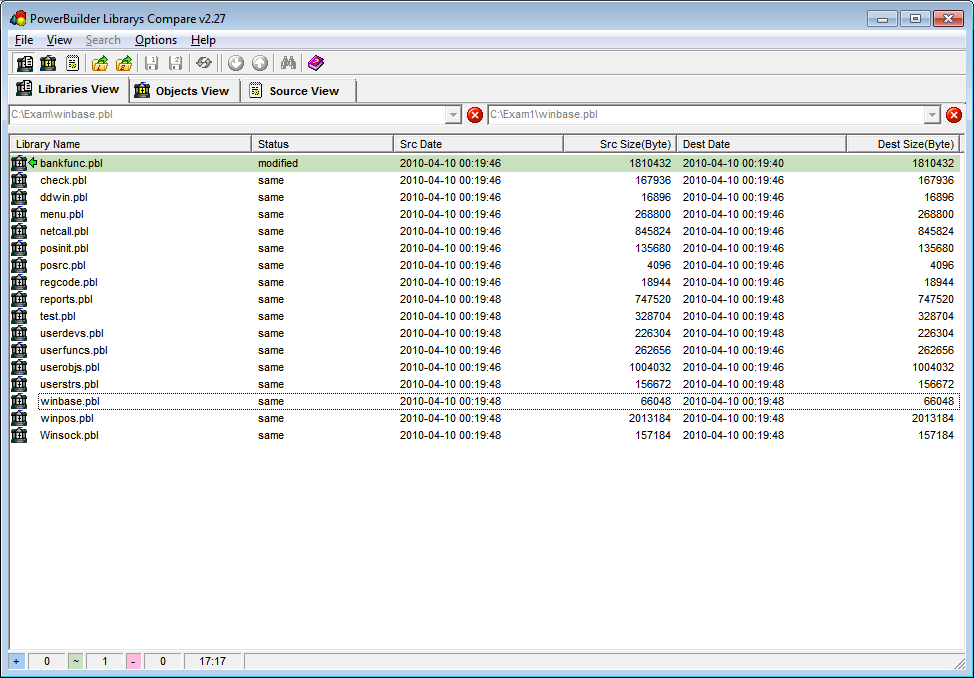 2. Double click row who show difference, Objects with difference in library will list.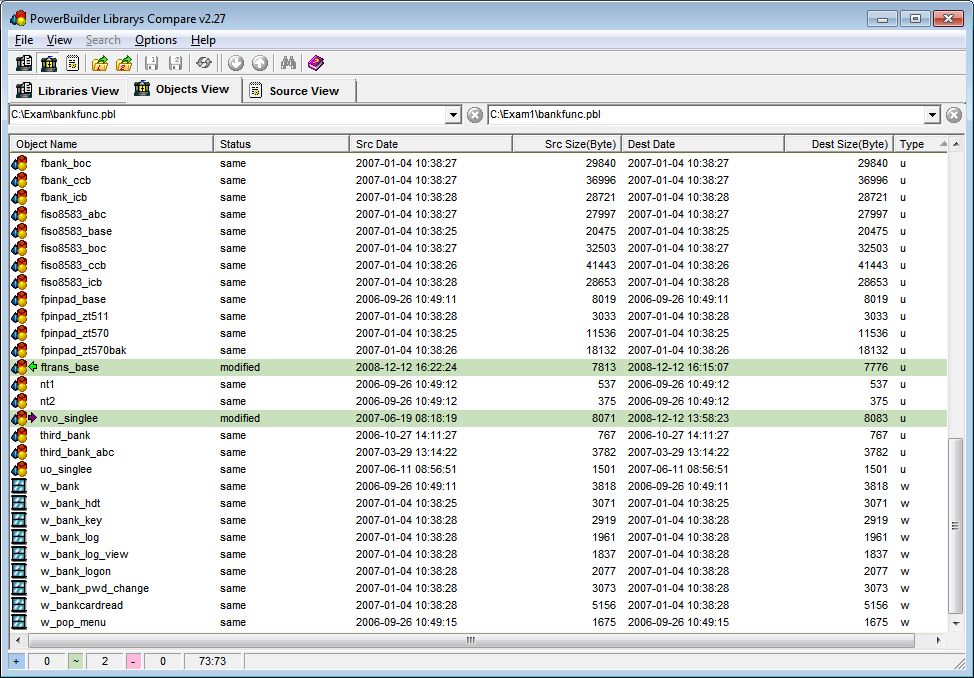 3. Double click object, it will show script of object frame, you will see what difference between two copy of Powerbuilder files.