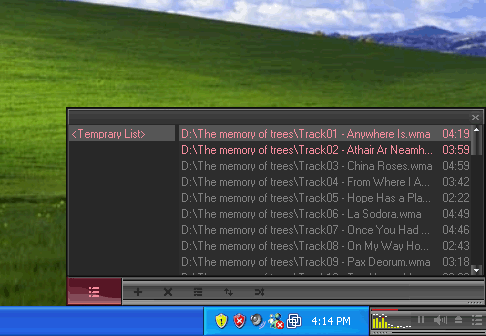 Features:
Trayamplayer is a small and useful media player that was designed for those that like to listen to music while working on the computer.

Trayamplayer embeds itself into Windows taskbar virtually becoming a part of Windows. Thus it doesn't obscure desktop and user application windows while always being at hand.

All basic actions, including: open files, play files, stop or pause file, go to next or previous file are easily accessible through corresponding buttons on the taskbar.
It also integrate progress control and volumn control in the control bar which you can fast tune volumn or change playing progress.

Getting full control menu over player is easy - single mouse right click brings up popup menu. Besides basic actions it offers more options to make it fit to you.

Playlist editor window - You can open media files and add them to list. Temporary list don't save the track list which you add temporary to listen. You can save temporary list to your own group list by list save function.
In the process of playing Trayamplayer displays information about file being played including: play time, title and artist in the balloon hints after your mouse hover on the player window.
Trayamplayer features flexible user settings. One can change button position in the taskbar, buttons displayed, etc. Ever popular skin support is there too.

Trayamplayer can play audio multimedia files in the most popular formats, including: Audio CD (cda), mp3, wma...