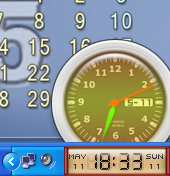 Description:
3D Tray Clock Ex. is the advanced replacement for standard Windows tray clock with 3D looks, Desktop clock, Calendar integrated. It also has different alarms to alert important events.
OS: Windows WIN2000/XP/Vista
File Size: 1.6 M
License: Shareware
Limited - 30 days trial.
free to try, $19.95 - to buy.

through regnow
Can replace system tray clock with visual skins, show date and time together with different style skins.

You can add reminder easily, Once or Recycle type.

Fast to call todolist edit window to view and write down what you will do in future.

Can define clock alarm sound and alarm at Quart? Half hour? One Hour?

Beautiful, 3D looks, powerful functions, run with win2000/winxp/vista.

Integrated Desktop clock with many changeable skins.

Integrated Calendar with many changeable skins.

Usually functions in menu.
To uninstall this software, you must exit TrayClockEx at first, then run uninstall program to remove it.
You can fast to select tray clock face through menu, but it can not save as default. you can run options dialog to select tray clock face and save it as default.
How to fast define alarm event ?
You can right click tray clock and select fast reminder menu from the popup menu
All can set by options dialog...